~ News Archive 2019 ~
The Annual Tri-state Challenge, in Junee for the first time! May 25/26 2019
| | | | |
| --- | --- | --- | --- |
| The winners, Team New South Wales | Second placed, Team Australian Capital Territory | Third placed, Team Victoria | Some of the Victorians arriving at Junee Station |
The R.S.L. Club in the New South Wales town of Junee (the central point for travel from the three states involved) proved an excellent venue, and everyone appreciated the kindness of the weather. Fifteen Victorians, twelve from New South Wales, and nine from the Australian Capital Territory battled for the title, with New South Wales overtaking the team from the nation's capital in the last round, with Victoria coming in third.
John Hamilton from the ACT was in charge of the organisation, and ensured that as many games were played between the states as possible, and these were the games that counted towards the title - New South Wales won 54.02% of games played against the other states, the A.C.T. won 52.86%, and Victoria won 43.96%. Congratulations to the team from New South Wales! We'll have to do better next year!
Thanks to John and helpers for your hard work organising the event, and to see the full results of the Tri-state Challenge check the archives
HERE

Division A, Barry
Harridge, Victoria, first &amp High Rating Gain +88

Bob Jackman, NSW,
second, High Game 535,
High Word TYPHOID 112

Div A, Noel Barrett,
Australian Capital
Territory, third

Division B, Hanne Marks, NSW, first



Division B, Sunny Wright NSW, second



Div B, Terry Horan,
ACT, High Game



Div B, Arlene Williams, ACT, High Word READIED 95

Div B, Latha Weerakkody, High Rating Gain +59


Scrabble Generations - May 19, 2019
The inaugural Generations event was run by Nick Ivanovski, using John Chew's excellent TSH program. 42 players were divided into four teams roughly according to age, with the program ensuring that team members did not play their own team members, but always members of other teams. Team captains were Anand Bharadwaj, leader of the Young Ones, Christie Godby was captain of the Young to Middle Aged Team, Carol Johnsen captained the Almost Mature team, while Marj Miller lead the More Mature players!
Individually Anand Bharadwaj finished first on 7 wins, ahead of Gwen Lampre on 6 wins and Mythili Rudra on five. Chris Scholten scored the High Game for the day with a score of 615.
It was a fun day, with Nick handling the software extremely well together with looking after all our needs! Thanks, Nick, and thanks to you and Khwanjai for the use of your photos.
To see the results of the Generations Tournament click
HERE

Team Anand, the winners - Anand Bharadwaj, Jeremy Yip, Jenny
Brysha, Natasha Podesser, Chris Scholten, Kashi Thiris, Mythili
Rudra, Carolyn Miller, Khwanjai Thammaping

Second place, Team Carol - Sandra Masel, Barry Harridge, Glen
Chandler, Carol Johnsen, Angie Pearse, Latha Weerakkody,
Norma Fisher, John Parker, Annette Casey, Gwen Lampre

Annette Casey, best performed player with a rating less than 1000



Natasha Podesser, concentrating on her game




Team Christie, Third - Christie Godby, Rob York, Dominica Krstic,
Alan Burn, Noel Coulter, Oliver Podesser, Kris Howat, Geoff
Shepheard, Dianne Davis, Christiane McCann, Doreen Ivanovski

Fourth Place, Team Marj - Lina Camilleri, Glen Chandler, Norma
Engel, John Rider, Marj Miller, Elize Plaganyi, Betty Egan,
Marisa Nuccitelli, Mal Eden, Angie Winkler

Anand Bharadwaj and Jeremy Yip, friends at Scrabble, and old school mates



Preparing for the updated wordlist - Marj Miller,
Geoff Shepheard and Norma Fisher


Saturday Sessions 3D - April 27, 2019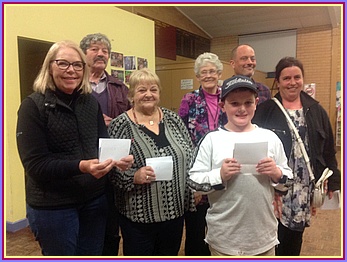 The major award winners: Ann Goodwin, John Rider, Angie
Winkler, Glenys Dettmann, Oscar Ivanovski, Robin Steward
and Kashi Thiris
This was the fourth and final session for the first half of the 2019 series, and many major prizes were awarded, as well as for the regular Round Robin played on the day. Organiser Nick Ivanovski welcomed Robyn Cameron from New South Wales (lovely to meet you, Robyn) and Robyn's husband David called in late in the day at presentation time.
Over $700 was given out for the cumulative awards over the four recent Sessions, and Nick is hoping to better this amount when further awards are given out at the final Session for 2019. The next event, which starts the group of four for the remainder of the year, takes place on Saturday August 3rd.
Here are the major prizes awarded on the day -
1350+ Band:
1st Geoff Wright 15 points, 2nd John Rider 13 points, 3rd Anand Bharadwaj 12 points.
1000-1349 points:
1st Kashi Thiris 18 points, equal second Robin Steward/Glenys Dettmann 16 points.
Below 1000 points:
1st Oscar Ivanovski 20 points, 2nd Angie Winkler 19 points, 3rd Ann Goodwin 17 points.
Overall Rating Gain winners:
Angie Winkler +74 and Doreen Ivanovski +44.
Below are the Round Robin winners for the 3D tournament:
| | | | | |
| --- | --- | --- | --- | --- |
| Natasha Podesser, Division A, 4 wins | Marj Miller, Div B, 4 wins | Doreen Ivanovski, Division C, 5 wins | Eileen Mills, Division D, 4 wins | David &amp Robyn Cameron |
To see the full results of Saturday Sessions 3D check the archives
HERE
The 2019 Australian Championship and Plate, held in Hobart, Tasmania, April 20-22nd

New Champ Cameron Farlow - the first Champ
from Queensland, I think!

From the left - Daniel Piechnick, Edward Okulicz, Cameron Farlow, Peter Kougi, Mythili
Rudra, Naween Fernando, Chris May, Andrew Fisher, Esther Perrins

Most of the Victorian players who travelled to
Tasmania for the event
The Championship:
After 24 hard-fought games Australia's new Champion for 2019 is
Cameron Farlow from the state of Queensland
, what a wonderful win for one of our great younger players! Going in to Round 21 of 24 Cameron was on 14 wins, with Peter Kougi (Victoria, on 14 wins), Edward Okulicz (Victoria, also on 14 wins), followed by Andrew Fisher (Victoria, on 13). Cameron simply needed to win his last four games, and this is exactly what he was able to do, finishing on 18 wins after playing the daunting quartet of Peter Kougi, Chris May, Ryan Sutton and Mythili Rudra.
Congratulations on a very convincing win, Cam!
Andrew Fisher (17 wins, +1144) finished second a game behind Cameron, followed by Peter Kougi (17 wins, +1060), and Edward Okulicz (17 wins, +775). Fifth place was filled by Daniel Piechnick (South Australia, 16 wins), Naween Fernando (Victoria, 15.5 wins) placed 6th, Chris May from New South Wales placed 7th on 15 wins and Victoria's Mythili Rudra placed eighth with 15 wins. Both the High Game and High Word awards went to Esther Perrins from New South Wales for her brilliant score of 631, and her play of OFTENEST for 158 points. Well done to you all.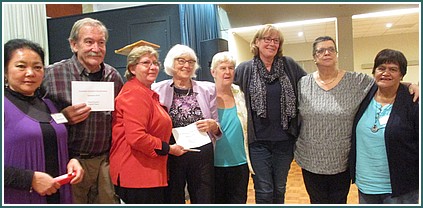 Plate winners - Khwanjai Thammaping, John Salmon, Karyn Crease, Rene
Chelton, Margaret Bishop, Francoise Finlayson, Paula Messer, Moana Nepia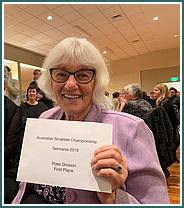 The delighted Plate winner,
Rene Chelton
The Plate:
This event was also keenly fought, with
Rene Chelton from New South Wales
winning 17.5 games and emerging as the winner over Tasmania's Margaret Bishop on 17 wins, Pam Thomas (Tasmania, 3rd on 16 wins), Karyn Crease (South Australia, 4th 16 wins), Khwanjai Thammaping (Victoria 5th 16 wins), Moana Nepia (NSW 6th 16), Francoise Finlayson (South Australia 7th on 15 wins), and John Salmon (Western Australia 8th on 14.5 wins). Various ratings band prizes were awarded (placegetters were ineligible to receive a ratings band prize) and Victorians collected two of these - Paula Messer for second place in the 1000-1200 band, and Michael Smitheram for first place in the under 1000 band. The High Game award went to veteran Ivy Nicholls from Tasmania for her excellent score of 546, and Cheryl Michler from New South Wales won the High Word award for her play of CAPSIZE for 150 points. Well done, everyone!

At the computer desk - Barry Harridge, John
Hamilton, Ronnie B's mum Sam

Two of our regular Victorian players, Dianne
Gibson and Betty Egan

At the dinner - Victoria's president Carol
Johnsen with Phillip and John Hamilton

Happy crew at dinner - Joanne Craig, Trevor
Halsall and Edward Okulicz
The Dream Team:
Once again John Hamilton organised a Dream Team competition, with the following team selection criteria: "Teams are 6 players from 6 states (3 in Championship, 3 in Plate), not exceeding 8000 rating points in total." John received 70 entries, and at the end of the tournament the team selected by Pam Bennett from New South Wales proved to be the best - Pam's selections were Stephen Mooney Pursell (Tasmania), Barry Jordan (South Australia), Ronnie Bennett (Australian Capital Territory), Rene Chelton (New South Wales), Paula Messer (Victoria) and Alan Mathews (Western Australia), with an aggregate starting rating of 7998. Pam's team won 84.5 games with a margin of +2654, well done, Pam, on your astute choices! Second place went to Barry Harridge whose team finished 82:+463, and third place went to Barry Jordan whose team finished 81.5:+1900. Thanks for organising this, John and Barry!
The Tournament
ran smoothly under the expert guidance of Tournament Director John Hamilton from the Australian Capital Territory. His brother Phillip Hamilton spent the tournament sitting quietly on the stage beside Table One, assisting with live streaming of games from each round - these were watched by many around the world, well done John and Phillip. Our busy webmaster was Barry Harridge from Victoria, who regularly updated the standings etc on the national website and the mailing lists. Barry also stepped in to play when one of our players became unwell with a virus, and Barry acquitted himself very well, winning 11 of 14 games played. Thanks for all your hard work, Barry, and thanks to Khwanjai Thammaping for the use of some of her excellent photos, and a very big thank you to all who had input into the smooth running of this excellent event.

The workers - Margaret Bishop, Martin Rose,
Cindy Brunniche, Sandy McConnell, Khen
Meerding, Phillip Hamilton, Barry Harridge
and John Hamilton

The entree - scrumptious platters, with
oysters, dips, smoked salmon, cold meats,
cheese, breads and much more.



At dinner - Paula Messer and Julie Belle,
both from Victoria, with Tim Reddan
from the A.C.T.



Some Victorians at the dinner - Trevor
Halsall with newlyweds Peter Kougi
and Mythili Rudra


Organisation
by the Tasmanian Scrabble players, led by President Martin Rose, was impeccable. The venue (the Hellenic Centre in North Hobart) was spacious, although a little cold on the first morning when the temperature dropped below 6 degrees. The Hellenic Club members took on the task of catering for the event, and their efforts were wonderful - many commented that it was as good, if not better, than any previous between-game snacks at a Championship event. The Hellenic members also catered for the lovely dinner on Monday night, and this was exceptional as well, with generous platters of interesting starters, followed by various meats and vegetables done on the spit, and walnut cake with ice cream - well done to you all, and well done, Scrabble Tasmania!
To see the full results of the Championship and the Plate check the archives
HERE
And to visit the website with details and round-by-round results click
HERE
The wedding of two young Scrabble players - April 13, 2019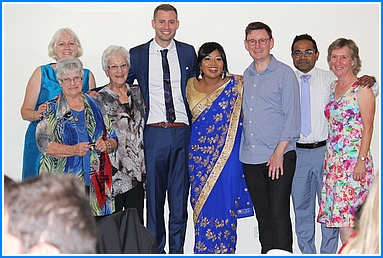 At the wedding: Joanne Craig, Marj Miller, Norma Fisher,
Peter Kougi, Mythili Rudra, Trevor Halsall, Naween Fernando
and Esther Perrins
This was a lovely celebration of the marriage of Mythili Rudra and Peter Kougi - Mythili played at the Nunawading Club from Year 10 to Year 12 when staying with relatives whilst studying in Melbourne, and much later played in New South Wales until moving to Melbourne in 2012. Peter learned his craft at the Bentleigh Club over many years, under the expert guidance of Norma Fisher. Both Myt and Peter are now very accomplished and daunting players, with Peter winning the Australian Championship in 2015 in Melbourne, not an easy task!
We had a wonderful day at Doyle's Bridge Hotel in Mordialloc where the ceremony took place near the canal under a pergola decorated with roses, and the sun came out on an otherwise gloomy day. Dinner was delightful with generous servings of yummy food, and Mythili looked lovely in her beautiful blue and gold sari. Greek music and dancing, including the newly-weds dancing on chairs, added to the wonderful atmosphere - it was a very happy day indeed! All scrabble players present agreed it was an honour to be invited, and it was lovely to meet Mythili and Peter's families and friends.
We wish Mythili and Peter every happiness in their marriage, and many more years of enjoyment in Scrabble!
Go to the top
The 2019 Nunawading Tournament ~ March 31st, at Box Hill
Fifty players gathered at the Box Hill Senior Citizens' Centre to contest this annual event - this may be one of the last times the Centre is used as a tournament venue, and on the whole it has served us very well as a regular place to run tournaments. Thanks to Sue and Alistair Kane for finding it quite some time ago - I'm not sure of the year, but possibly the first event held there was the 2006 Victorian Championship.
Nunawading Club Convenor Geoff Shepheard did a great job organising his first tournament, and we thank him, together with Club member June Valentine and others for looking after us so well on the day - the cakes and sausage rolls were lovely! Thanks also to anyone who helped in any way, including Nick Ivanovski, Carol Johnsen, Norma Fisher and Rob York.
Three players were presented with milestone badges by President Carol Johnsen - Paula Messer and John Rider reached the 2000 games played mark, and Balada Catanchin achieved 1000 games played - these three are very regular contestants who thoroughly enjoy the challenge of a good game, and we congratulate you all!

Div A: Geoff Wright (2nd), Nick Ivanovski
(High Word DIARISED 149), Norma Fisher
(High Game 556), Edward Okulicz (1st).
Missing - Chris Scholten (3rd)

Div B: June Valentine (1st), Jenny Brysha
(2nd), Glenys Dettmann (High Game 547),
Rob York (3rd &amp High Word LEAVENED 98)



President Carol Johnsen presented Paula
Messer with her 2000 games badge - well
done, Paula!



John Rider receiving his 2000 games
badge from Carol Johnsen - a good
effort, John!


Players were divided into 4 sections, with Edward Okulicz, June Valentine, Christiane McCann and Marlene Ellis the winners on the day. There were some great plays on the day, including Marlene Ellis's brilliant play of BOARDING for 158 points, and Norma Fisher's game score of 556, the best for the day.
Great ratings gains were achieved on the day by June Valentine +53, Chris Scholten +46, Angie Pearse + 32, Jenny Brysha +30, Christiane McCann +30, Marisa Nuccitelli + 29, and Dominica Krstic + 27. Well done,everyone.
To find the full results of the Nunawading 2019 event click
HERE

Div C: John Parker (2nd), Dominica Krstic
(3rd), Oliver Podesser (HW PERSONAL 140),
Christiane McCann (1st &amp HG 520)

Div D: Oscar Ivanovski (High Game 495),
Marisa Nuccitelli (3rd), Rena Aitken (2nd),
Marlene Ellis (1st &amp HW BOARDING 158)

Carol Johnsen presenting a very happy
Balada Catanchin with her badge denoting
1000 games played, congrats Balada!

Play in progress later in the day -
we will miss our days at Box Hill Senior
Citizens' Centre!
Saturday Sessions 3 C ~ March 16, 2019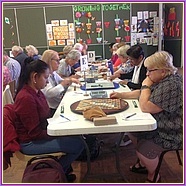 Ravindi Nanayakkara plays
Division E winner Angie Winkler
A pleasant day was had by the 30 players who attended this event at St Gabriel's School in Reservoir, and Organiser/Tournament Director Nick Ivanovski welcomed all players, with a special welcome to new player Ravindi Nanayakkara playing in her first tournament. Good luck and enjoy your time in Scrabble, Ravindi!
Players appreciated the light snacks provided, including delicious contributions from Kris Howat and Carol Johnsen, thanks to you both.
The field divided neatly into five divisions, and all played five games each, with standby player Marj Miller not required on the day. The outstanding game of the day was played by Anand Bharadwaj with a score of 672 points. Nice game, Anand!
Angie Winkler in Division E was delighted to win all her games on the day, always such a great feeling! Well done, Angie.
Angie also achieved the highest ratings gain on the day, gaining 36 points. Other good gains went to Glenys Dettmann +28, Latha Weerakkody +26 and Lina Camilleri + 26. Well done, everyone.
To check the full results of Saturday Sessions 3C click
HERE
| | | | | |
| --- | --- | --- | --- | --- |
| Div. A winner, Anand Bharadwaj | Div. B winner, Kashi Thiris | Winner Div. C, Glenys Dettmann | Div. D Winner, Latha Weerakkody | Winner Div. E, Angie Winkler |
Saturday Sessions 3 B ~ March 2, 2019
35 players gathered at St. Gabriel's School in Reservoir and were divided into six round robin groups. A very late dropout meant that Division C was a player short so the remainder played four rated games, with standby player Marj Miller playing the spare person in some enjoyable social games. It was a very hot day but we were cool and comfortable in the school, which has turned out to be a very suitable venue. Niki Misinale played her second tournament and has settled well into tournament play, enjoying her games and the social atmosphere. Thanks to Nick Ivanovski for his organisation of the Saturday Sessions, the next one takes place at St. Gabriel's on Saturday March 16.
To check the full results of Saturday Sessions 3B click
HERE
| | | | |
| --- | --- | --- | --- |
| Winner in Division A - Trevor Halsall | Division B - Norma Fisher | Division C winner - Barry Harridge | Division D - Kannan Sethuraman |
| | | |
| --- | --- | --- |
| Division E winner - Ann Goodwin | Winner in Division F - Oscar Ivanovski | Oscar Ivanovski, Carolyn Miller & Niki Misinale |
Go to the top
Summer Fun at Box Hill ~ February 17, 2019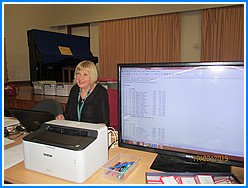 Tournament Director and Organiser, Carol
Johnsen
54 people gathered to compete in this 7 game event, one of the last to be held at Box Hill Senior Citizens Centre due to rising charges for the use of the venue.
TD Carol Johnsen welcomed Ruth McInerney who is visiting from overseas, and it was good to see Edward Okulicz - Edward is now residing in Victoria, having relocated from New South Wales. Zina Costanzo was also visiting from the Northern Territory where she and Sal are happily living in Litchfield National Park, a lovely quiet spot several kilometres south of Darwin.
Players were divided into four sections - Advocaat, Brandy, Cointreau and Daiquiri, and a box of chocolates was awarded for the best "Summer" word - this was won by June Valentine for her play of the word "SUN". Everyone was well nourished thanks to Carol and Angie Pearse, who acted as standby player for the day. Thanks for doing that job, Angie.
Well done to all winners and placegetters, and safe travels to David Eldar who is heading back to England shortly.

DAIQUIRI: Rena Aitken (3rd), June Valentine
(Best Summer Word), Angie Winkler (High
Game 486), Balada Catanchin (High Word
ZARIBAS 129), Elize Plaganyi (2nd),
Gayle Cameron (1st)

COINTREAU: Khwanjai Thammaping (1st),
Christiane McCann (High Word JOGGERS
111), John Parker (2nd &amp High Game 497),
and Kannan Sethuraman (3rd)



BRANDY: Rob York (High Game 528),
June Valentine (3rd), Paula Messer (2nd),
Shirley De Silva (High Word JOINTERS 98,
and John Rider (1st)



ADVOCAAT: David Eldar (High Game 666),
Anand Bharadwaj (High Word CAPTIVES
194), Nick Ivanovski (1st), Peter Kougi
(2nd), Andrew Fisher (3rd)


To check the full results of the Summer Fun event click
HERE
The first of the Saturday Sessions for 2019! February 2nd
The first of eight of these tournaments for 2019 attracted an excellent field of 44 players, including Caroline Scowcroft from Queensland. The event was again run smoothly by Organiser and Tournament Director, Nick Ivanovski - well done, Nick. Its an advantage to play in as many of these Sessions as you can as there are generous prizes awarded at the conclusion of the first four, and another set of prizemoney is given out at the end of Session 8, with overall prizes covering the eight events also awarded.
| | | | |
| --- | --- | --- | --- |
| Division A winner, David Eldar | Winner of Div B, Geoff Wright | Kashi Thiris, Div C Winner | Div D winner, Dianne Gibson |
| | | | |
| --- | --- | --- | --- |
| Robin Steward, winner of Div E | Div F winner, Christiane McCann | Oscar Ivanovski, Div G winner | Nick Ivanovski, hard at work |
Thanks to Nick Ivanovski and Khwanjai Thammaping for the use of their photos. To check the full results of Saturday Sessions 3A click
HERE
The CSIM and Australia Day Tournament in Sydney, January 2019
The City of Sydney Masters and the Australia Day Tournaments attracted good numbers this year - 65 played the 8-game one-day event on January 26th, and 58 took part in the 18 game CSIM, held over two days on Sunday and Monday of the long weekend.
| | | | |
| --- | --- | --- | --- |
| Andrew Fisher, first CSIM, with NSW President Bob Jackman | Edward Okulicz, second CSIM | Ryan Sutton, third CSIM | David Eldar, fourth CSIM |
Several international players competed in both events and the winner of the CSIM, following a tough battle which several players had a chance of winning, was Andrew Fisher from Victoria. Andrew finished on 13 wins, ahead on margin only from Edward Okulicz and Ryan Sutton, both from New South Wales. Victorians filled the next three places, namely David Eldar, Naween Fernando and Trevor Halsall. The High Game award was won by Russell Honeybun from Western Australia for his score of 668 points, and the High Word award went to Carmel Dodd from South Australia for her play of EROTEMAS for 154. Well played, all!
| | | | |
| --- | --- | --- | --- |
| Naween Fernando, fifth CSIM | Trevor Halsall, sixth CSIM | Peter Kougi, first Australia Day event | Adam Kretschmer, second Australia Day event |
The Australia Day event was won by Peter Kougi from Victoria, closely followed by Adam Kretschmer from South Australia and Noel Barrett from the Australian Capital Territory. Both the High Game and High Word awards were won by Sue Gergelifi from New South Wales for her score of 623 points and her play of DISRATES for 140 points. Well done, everyone!
Congrats to New South Wales on running another successful tournament at the Bankstown Sports Club, and thanks to Sharon Sorenson for the use of her photos.
To check the 2019 CSIM results click
HERE
And to see the full results of the Australia Day Tournament click
HERE
Vale Lorna Patching, 2 February 1927 to 20 January 2019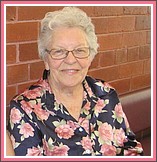 It was with sadness we heard the news of Lorna's passing, at home as was her deepest wish, with her family around her following a long battle with cancer. Lorna had been a loyal and much loved Scrabble player in Victoria for many years. Her courtesy, sense of fairness and gentle nature made her a popular opponent,and all will remember the twinkle in her eye and her wonderful sense of humour.
As well as Scrabble Lorna loved crosswords and all sorts of puzzles and her favourite pastime was working on Word Codes after having the one available clue "whited out". Her spare time was taken up with charity work of various sorts, and caring lovingly for her family. Lorna and Alan had four children but, sadly, her two sons predeceased her. Lorna will be greatly missed by Alan and their daughters Margaret and Rosemary, and extended family and friends.
Rest peacefully, Lorna, your Scrabble friends will miss you too.
2019 kicks off with the Bil Rose Aestival ~ January 13th, at Box Hill
Sixty-two players played in this year's Aestival, held in memory of our Guiness Book of Records legend Bil Rose. As the Australian Open Tennis event is contested at the same time Tournament Organiser (and standby-player) Carol Johnsen ran a theme word competition for the "Best Tennis Word" and the judges chose the word DEUCE played by John Ryan, who received a ground pass for Monday January 21st. It was good to see B.J.Winzer back at tournament play after an absence of ten years, well done, B.J.
The round robin sections were mainly named after our Aussie tennis players, and winners were as follows - AIAVA division was won by Andrew Fisher (7 wins), BARTY by Geoff Wright (6 wins), CABRERA by Noel Coulter (5 wins), DE MINAUR by Kris Howat (5 wins), EBDEN by Dominica Krstic (5.5 wins), FEDERER by Anne Menheere (6 wins), GAVRILOVA by Balada Catanchin (6 wins), and Oscar Ivanovski won all 7 games for a clean sweep of HEWITT. Well done everyone, especially the two who won all 7 games!

A-C winners, Noel Coulter, Geoff Wright
and Andrew Fisher

D-H winners, Kris Howat, Oscar Ivanovski,
Balada Catanchin and Dominica Krstic

David Eldar



Fintan Conway



Angie Winkler and Faye Leeder, relaxing
at the end of the day
Two High Word and two High Game prizes were awarded, with the top four sections combined, as were the lower four sections. The AIAVA-DE MINAUR awards went to David Eldar for his game score of 615 points and his great play of JEHADIST worth 194 points. The EBDEN-HEWITT prize for High Game went to B.J.Winzer for his excellent score of 516, and the High Word Award went to Fintan Conway for playing LENDERS for 99 points. Good play, all.
Thank you to all who assisted with the running of the event, and for setting up and tidying up afterwards, and to Christie Godby for looking after our nutritional needs so well for the day. Our next event sees the return of the Saturday Sessions, with the first of eight for the year kicking off on February 2nd at Reservoir. To check the 2019 Aestival results click
HERE