The website of the Australian Scrabble Players Association (Victoria) Inc.
Watch this space for the latest news and happenings in the Victorian Scrabble scene, and to find lots of information and to check on news from the past click on the links at left. Your social reporter is Marj Miller, and to pass on any news click here mjwm9@bigpond.com

Upcoming Tournaments
Victorian Matchplay - rounds played privately, commencing Jan 31 - Contact Nick Ivanovski
Scrabble Generations - SUNDAY February 23 - 7 games - at Moonee Ponds
Saturday Sessions 2020B - SATURDAY February 29 - 5 games - at Reservoir
Saturday Sessions 2020C - SATURDAY March 14 - 5 games - at Reservoir
The Ruth Fewings Memorial Tournament - SATURDAY/SUNDAY March 28/29 - 10 games - at Bendigo
Mordialloc - SUNDAY April 5 - 6 games - at Mordialloc

To see the full details of Victorian tournaments click HERE
Saturday Sessions 2020 A - February 1st, 2020
| | | |
| --- | --- | --- |
| Carol Johnsen, winner Division A | Angie Pearse, first in Division B | Play in progress, early in the afternoon |
The first Saturday Session for the year was well attended with 42 players taking part in a 5-game Round Robin. Nick Ivanovski was Tournamt Organiser and Director, and everything moved along smoothly under his direction.
Nick welcomed new player Michael Sacco from the Sunbury area, and Michael enjoyed the experience, winning three games and appreciating the atmosphere.
Light snacks were provided, and a cake made by John Rider's wife Flora was greatly appreciated.
Two players won all five games in their divisions, well done, Angie Pearse and Rob Hutchinson.
Great ratings gains were achieved by Carol Johnsen +52, Rob Hutchinson +49, Angie Pearse +47, and Eileen Mills +38.
Congrats to all winners
| | | | | |
| --- | --- | --- | --- | --- |
| Rob Hutchinson, first in Division C | Michael Smitheram, winner Division D | Winner of Division E, Elize Plaganyi | Division F winner, Eileen Mills | Marisa Nuccitelli, first in Division G |
Andrew Fisher wins the City of Sydney International Masters - January 26/27, 2020
Several Victorians travelled to Sydney on the long weekend to compete in this prestigious annual event, and of these Andrew Fisher finished in first place on 14 wins, followed by David Eldar (Victoria) and Marlon Prudencio (Singapore) on 12 wins each. Fourth place went to Chris May from New South Wales, with Peter Kougi 5th (Victoria) and Joanne Craig 6th (N.S.W.), all on 11 wins. The High Game Award went to David Eldar for his score of 647, and Ronnie Bennett from the Australian Capital Territory played BRIGADES for 167 points to win the High Word Award. Other Victorians in the field were Naween Fernandes (10th), Mythili Rudra (11th) and Shaun Donnelly (28th, in a tough field of 36). Congratulations to all who played, its a challenging tournament with 18 games played over two days.
A one day warmup event, the AUSTRALIA DAY OPEN, was held on Saturday 25th January, and David Eldar was the standout in this 9 game tournament, winning all his games and briefly achieving an Australian rating of 2121. Second place went to Peter Kougi and third placed was Andrew Fisher, both with 7 wins.

Andrew Fisher with Bob Jackman,
president of Scrabble in N.S.W.



The placegetters - Marlon Prudencio, Chris May, Joanne
Craig, Peter Kougi, David Eldar



Winner of the High Word Award,
Ronnie Bennett with Bob Jackman



Marlon Prudencio, Andrew Fisher, Chris May,
David Eldar, Peter Kougi, Mythili Rudra,
Esther Perrins, Victor Tung
To those who took the photos, namely Sharon Sorenson and Marlon Prudencio, thank you both!
For full results of the C.S.I.M. check the National Archive
HERE
To see the results of the Australia Day Open click
HERE
Fundraising fun at the Bil Rose Aestival - January 19, 2020!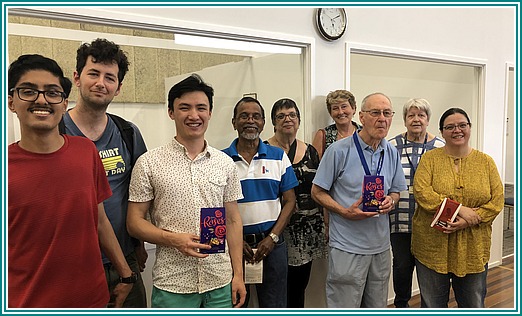 Winners on the day - Anand Bharadwaj, David Eldar, Jeremy Yip, Shirley de Silva,
Paula Messer, Carol Mascitti, Mal Eden, Christiane McCann and Jenny Brysha
This year's Aestival saw 54 players arrive to take part in raising funds for Jewish Care to assist their residents in having an end-of-year function, and Neetu from Jewish Care was delighted with the funds raised, over $1000 in total. Thank you all for your contributions, the residents are also delighted! Great food was provided by the Jewish Care people, including lovely fresh salads and chicken for our lunch - thank you, our players did appreciate your efforts. Many raffle prizes were on offer, and these were popular with the contestants.
Players were divided into 6 divisions, with each division bearing the name of a well-known tennis player.
AIAVA
was a hard fought division, with four players finishing on five wins - first place went to Anand Bharadwaj, ahead of Andrew Fisher, Naween Fernando and Peter Kougi.
BARTY
division saw Jeremy Yip in fine form, winning all seven of his games, one of two people to achieve this on the day. Geoff Wright finished second on six wins.
CABRERA
saw Jenny Brysha ahead of her peers with six fine wins, followed by Rob York and John Rider on 5 wins apiece.
DE MINAUR
was also a close contest, with Paula Messer in first place on 5.5 wins, ahead of Mal Eden on four wins.
EBDEN
saw Carol Mascitti win all 7 games, well done, Carol! Dominica Krstic was second on 5 wins, with Kannan Sethuraman third on four.
FEDERER
saw excellent play from Elize Plaganyi, winning six of her games ahead of Oscar Ivanovski, Marlene Ellis and Rena Aitken, all on five wins.
Combined prizes were given for the High Word and High Game over the top three sections, as well as the lower three sections (all prizes on the day were chocolates of varying sorts to allow more proceeds to go to Jewish Care).
In AIAVA, BARTY and CABRERA combined divisions the High Game chocolates went to David Eldar for his score of 569 points, and the High Word Award went to Shirley de Silva for his play of STAMPEDE for 162 points.
In DE MINAUR, EBDEN and FEDERER divisions the High Game Award went to Christiane McCann for her excellent score of 568 points, just one point less than David Eldar's score. Mal Eden took home the High Word chockies for his play of WOUNDED for 99 points.
Excellent ratings gains were achieved by Jeremy Yip +75, Carol Mascitti +54 and Jenny Brysha +50. Well done to you all!

Neetu from Jewish Care speaking, with Carol Johnsen, Barry
Harridge, Kannan Sethuraman and Oscar Ivanovski

Geoff Wright who has played 4000+ games of
competitive Scrabble - well done, Geoff!

Wayne Stoyan, back enjoying playing
after a break from Scrabble

A good day's play from Jenny Brysha,
well done, Jenny!
For full results check the National Archive
HERE
Go to the top